Treasury Management for Your Business
See how Remote Deposit Capture can save your business time and money!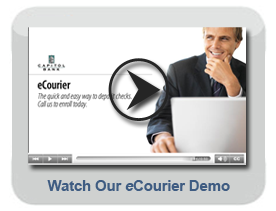 Remote Deposit Capture
Enjoy the convenience of making deposits electronically 24 hours a day, 7 days a week, even weekends. Preparing deposits electronically is very efficient, reducing trips to the bank. Click here to find out more about Remote Deposit Capture.
Cash Management
Managing your cash flow effectively and maximizing your working capital are crucial to the success of your business. At Capitol Bank, we offer cash management accounts tailored to your specific needs and goals. For more information contact a Commercial Banker.
Payments & Collections
Positive Pay
Positive Pay is one of the most effective anti-fraud tools available today for check disbursements. Using check issuance data, the bank matches all checks being presented for payment against the issuance information. The issuance information is updated daily as checks are issued and paid. If a check serial number and dollar amount match the issuance record, the check is paid automatically. If there is a discrepancy, the check is reported as an exception and is not paid without permission of the client. While Positive Pay cannot protect against all fraud, it is a powerful protection measure.
ACH
Automated Clearing House (ACH) payments allow you to reduce or eliminate the use of paper checks to make routine payments. The ACH system can process large volumes of individual payments electronically and is frequently used for payroll, recurring bill payments, Social Security benefits, insurance premiums, consolidation of corporate cash balances and the like.
Lock Box
Our lock box service is a Post Office Box accessible by the bank. When you establish lock box service, your customers send their payments directly to the designated Post Office Box. The bank collects and processes these payments, depositing them directly to your account.
For more information contact a Commercial Banker.
CDARS
The Certificate of Deposit Account Registry Service (CDARS) is a convenient way to enjoy full FDIC insurance on deposits of up to $50 million. When you place your deposit with Capitol Bank, we place your funds into certificates of deposit issued by banks in the CDRS network. This occurs in increments of less than the standard FDIC insurance maximum to ensure that both principal and interest are eligible for full FDIC insurance coverage.
Other network members do the same thing with their customers' deposits. With the help of a sophisticated matching system, network members exchange funds. This exchange occurs on a dollar-for-dollar basis, so that the equivalent of your original deposit comes back to your institution and effectively stays local, meaning the full amount can support lending initiatives that build a stronger local community.
With CDARS, you will:
Sign one agreement with Capitol Bank
Earn one interest rate
Receive one regular statement
For more information on any of our Treasury Management services,  contact our Treasury Management Officer.